Windows PCL Soft Font Downloader
How to Send PCL Fonts to a Printer
Do you want to use PCL bitmapped soft fonts from within Windows? Each new version of Windows makes it more and more difficult to download this type of font to your printer. Yet your application can't use fonts unless they are resident in the printer RAM.
DownloadWin
Our software gives you complete control over your PCL fonts from within Windows. It works in all current versions of Windows including both 32 and 64 bit versions. Just run the program, select the font you want to download, the printer to send it to, and the soft font ID number to assign to it. Click the download button and the font is sent to any Windows printer. (Note your printer must be capable PCL Level 5 comppatible.)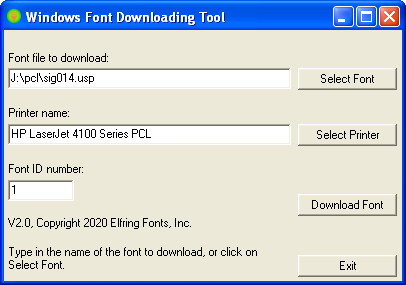 Run Invisibly In the Background
Do you need to build batch files that will send all your PCL fonts to your printer invisibly? DownloadWin can do this for you too. Each time you run the program from Windows, it memorizes all the fonts and settings you specify as you download your PCL soft fonts to your printer. DownloadWin builds a log file of this information. You can run the program from the command line and pass it the log file- telling DownloadWin to repeat the same download sequence as often as you wish.
Just build a batch file and include this font list as an argument to the program. For example:

downloadwin myfontlist.log