View the manual
View the EULA

How to Uninstall
MICR calibration utility
Questions?
MICR Supplies:



$139.50
Windows 10, 8, 7, Vista, XP, Server 2012/2008, 32 or 64 bit,
requires a laser printer with magnetic toner
Download now

3.8 Mbytes, V8.0


Download, multiple users
plus embeddable option

Print an order form

Terms & Conditions

Elfring Fonts, Inc.
2020 Dean St, Unit N
St Charles, IL 60174

Phone Orders:
1-630-377-3520


MICR / E-13b TrueType Fonts for
Windows Check Printing
Do you want to print your own checks? Check printing requires a laser printer, special magnetic toner, check paper, and our MICR / E13-B fonts! U.S. law (Check 21 Act) and Canadian law (CPA006) requires the bottom sequence of numbers on a check be printed in a special font called MICR or E-13B, using magnetic toner. This font includes the numbers 0 through 9 and four special characters: On-Us, Transit, Amount, and Dash.
MICR printing must be exceedingly accurate. It requires a 600 dpi or better laser printer with a magnetic toner cartridge. Our software package includes the MICR font (E-13B) and a calibration program to ensure the checks you print will work at your bank. All fonts meet ANSI X9.27-1995, ANSI X9.100-160-1-2009, and the Canadian CPA006 standards. To be certain your check meets these standards add a MICR gauge to your order.
When printing checks, you also need a way to print the amount and the payee name in a secure fashion. This package also includes a limited set of eight different Secure Fonts™. They let you print payee names and check amounts in dollars, pounds sterling, euros, or yens that are very hard to forge or alter. (Optio software users need the PCL bitmapped MICR font set.) Note that you only get a partial Secure Font set with the MICR font package.
Want to know more about this package? Download our free sample Windows MICR set by clicking on the Download button at the top right of this page. You can also add a MICR position gauge to your order for the special price of $199.50. Need a PCL MICR font?
Add a MICR Check Position Gauge to your order for accurate printing: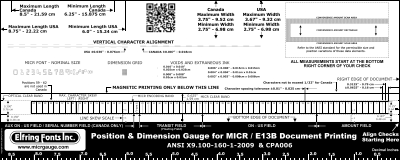 Bonus: eight Secure Fonts™ to print payee names check amounts
Features: ten versions of MICR to calibrate your system
Optional: MICR Check Position Gauge
Plus: calibration program to ensure your checks will work
Special: two different signal strength font sets
PDF Files: These fonts will not embed in a pdf file. Embeddable fonts for pdf files require a special license and special fonts. Crystal Reports typically requires embeddable fonts.